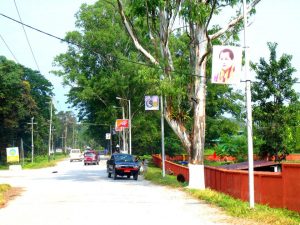 History
» History of Gelephu dates back to 1960s when primitive settlement was shifted from the banks of Mou Chhu to the present area, which used to be known as Hati Sahar (Elephant infested place).
History
Gelephu is located at about 30 kms to the east of Sarpang, the Dzongkhag Headquarters. Though, Sarpang is the administrative centre for the Dzongkhag, Gelephu, due to various factors, has prospered and developed as a market town serving the hinterland.
The Sarpang-Gelephu Zone offers unique opportunities for Bhutan, as well as for the citizens within the services catchment area. The geographical setting of the town with relatively flat terrain, close proximity and well established connectivity with India, and its location as a nodal connection for the central parts of Bhutan, makes the place one of the preferred locations for future development.
The Structure Plan for Gelephu lays down the precinct plan, road network, open space system and amenities system. It reviews the existing scenario of Gelephu and the potentials and constraints from which future possibilities emerge. It explains the proposals for action from which the Structure Plan of Gelephu will be composed. These are then illustrated through maps and diagrams. It also includes implementation and management strategies, investment plan and development control regulations for coherent growth of the town. The Development Control Regulations have been included as a part of the Structure Plan to support the proposals of the plan through the introduction of regulations and procedures. The jurisdiction of these regulations includes the area under the Gelephu Thromde, including Urban Control Zone.
Gelephu is envisioned as a Growth Center for south-central Bhutan serving a series of smaller settlements, or Service Centers, like Sarpang, Damphu, Zhemgang etc.
The Structure Plan envisions an impressive entrance or a Gate way into Gelephu through a portal from India. It is proposed to be a multi-modal terminal heading Trongsa in North, Sarpang and Damphu to West, and proposed Sipsoo – Daipham National Highway towards East.
The proposed Sarpang – Gelephu development corridor will serve as the backbone for a Special Economic Zone. It proposes the establishment of Dry Port and a Free Trade Zone as a part of the Special Economic Zone.
Another theme of the Gelephu Plan is to develop inter-linked open-green spaces for use as recreation, sports, walking, cycling, exercising and play gardens that can provide an excellent opportunity to promote planned growth of Gelephu unlike many other settlements.